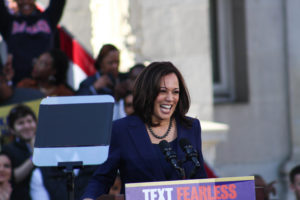 On today's Hard Knock Radio show (-08-14-20) we have a spirited discussion about Senator Kamala Harris being picked to join Joe Biden on the 2020 Democratic ticket for President.  We talk in depth about her record as both San Francisco, District Attorney and as California's Attorney General.
We talk about the type of pushback and opposition she receieved while holding those positions and how they match up with the national criticism she has recieved. The national narratives criticizing Kamala Harris are very different then the local and state wide criticisms she has recived. We sought to find out why during our roundtable.
We discuss the mix raced background of Kamala Harris. She is Indian and Jamaican.  There are some who claim she is not 'really' Black. We dwelve deep as to why some would hold that position. We attempt to answer the question, Is Kamala Harris a step forward for racial justice and a compliment to the current movements centered around Black Lives Matter or a step backwards?
We talk in depth about her Indian heritage and how she would be percived based upon India's centuries old caste system. We talk in depth about whwther or not Kamala Harris is seen as a proud moment for Indians both here in the US and abroad.
Guests:
Tonya Love works for Assemblymember Rob Bonta as District Director for Oakland, Alameda, and San Leandro. She is also a member of the Oakland Sugar-Sweetened Beverages Tax Advisory Board, serving for the 2017-2020 term. https://www.linkedin.com/in/tonya-love-76a76122
Professor James Lance Taylor is a former President of the National Conference of Black Political Scientists (NCOBPS). https://www.usfca.edu/faculty/james-lance-taylor
Thenmozhi Soundararajan is a Dalit-American artist, technologist, and the Executive Director of Equality Labs, an art and technology startup supporting South Asian religious, cultural, and genderqueer communities in the United States and South Asia. https://racialequity.atlanticfellows.org/fellow/thenmozhi-soundararajan