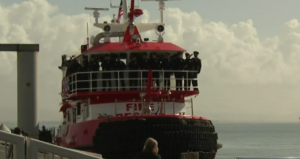 On today's Hard Knock Radio Show 08-13-20 we speak about troubling allegations about San Francisco's Fire department. There are several Black firefighters who claim there is an unwritten 'Whites Only' policy around the departments prestigious Fire Boat division. We spoke with former SF fire fighter David Hawkins  and long time Civil Rights attorney Angela Alioto about a lawsuit they have filed to address these issues of discrimination.
We spoke about the hostile treatment, including the cutting of work hours that was levied on Lawrence Thomas , who was one of the first Black firefighters to obtain a position on the fire boat. We talked about the retaliatory treatment recived by David Hawkins when he spoke out about racial discrimination within SFFD.
Attorney Angela Alioto, who is also former president for the SF Board of Supervisors,  talked about the how San Francisco despite its national reputation of being a liberal city is often challenging for Black people who deal with all sorts of racist incidents , even as the city has a Black woman Mayor (London Breed) .