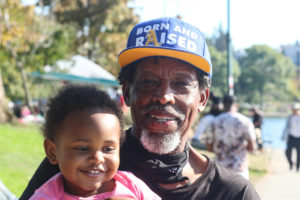 On today's (Hard Knock Radio Show 08-03-20), we speak with long time Oakland businessman and community icon, OG James Copes. He talks to us about the decades old fight over rules governing Lake Merritt and the impact its having on Black vendors. Copes says there is a clear double standard in terms of how city officials want to enforce certain rules resulting in restrictions placed on Black vendors, while they seemingly leave non-Black vendors lone at the nearby Farmer's Market.
Cope notes that Oakland city officials are selectively using concerns about Corona Virus pandemic as an excuse to fine and ultimately remove vendors who happen to be mostly Black from Lake Merritt.  During our interview Copes produced all sorts of receipts to show that the city has turned a blind eye when it comes to Non-Black residents. On one hadn they will say that Black folks gathered at the Lake is dangerous and will spread the virus, but white folks who are gathered at the Farmer's Market are 'getting good food and trying to stay healthy.
Copes points out in our interview all the ways that such an assertion is contradictory. He runs down the history of the Farmer's Market which he points didnt pay rent to the city for almost 10 of the 14 years they been set up. he also points out that the owners of that market and many of their vendors aren;'t even from Oakland. They are from Marin County, which is one of the most affluent enclaves in the country.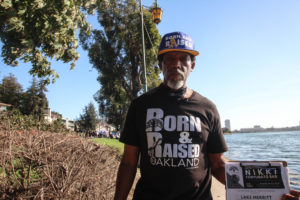 Copes lays out he sordid history of Lake Merrit and the challenges Black people have faced going all the way back to the 1970s. It began with the city banning roller skating around the Lake, which was ana ctivity enjoyed by Black folks. Then they banned cruising when Black folks would gather and show off their cars. The No crusing signs from the 1980s can still be seen. Then the city put all sorts of other rules ranging from no amplified music to no playing of instruments which was an attempt to stop Black folks from drumming.
At every turn folks fought those restrictions and got them overturned. The most egregious rule was banning BBqing at the Lake-That came to a head with the infamous BBQ Becky incident that garnered nationwide attention.  Black folks in a show of force and solidarity flocked to the Lake in large numbers every weekend in the wake of that incident and not only made it a point to BBQ, but also start setting up vending booths. For the past two years the Black vendors at lake Merriit has been an attraction. But its also pissed off a small but vocal contigent of people who live around Lake Merritt.
Cope sums it up, plain and simple-he notes there is serious anti-Black sentiment held this  small but loud contigent of long term residents. In response, he's been organizing the Black Vendors and has dug in his heels for a fight. Copes a formidable opponent who rarely loses. His longetivity is a testament to his ability to navigate any obstacle and outlast any opponent. He's well versed in the city's politics and history. It's hard to dispute the facts that Cope's lays out or the receipts he holds.
For those who are unfamiliar, James Copes is a fixture in Oakland. He is best known for the custom shirts and hats he's sold in Tha Town that express Oakland pride. In recent years he's been seen as a Oakland historian. He can be found either around Lake Merrit or on Lake Shore Avenue holding court with young and old folks as well as with newcomers and long term residents.
Copes can run down the cultural history of Oakland, especially as it relates to the city's vibrant music scene. Back in the 1980s when Hip Hop was taking hold here in the Bay Area, it was James Copes who was dressing many of the pioneering rappers. He made custom shirts, designed hats and even made jackets for folks.  The platinum records and photos he often displays at his vending booth.
Copes can also run down the history of Oakland, going all the way back to when the city was founded and parts of it were known as Brooklyn. In fact Copes sells a popular shirt that says Brooklyn in Oakland. A lot of newcomers from New York buy up the shirts mistakenly thinking that Copes is comparing Oakland with Brooklyn and that the shirt is somehow revering the Big Apple. Its nothing like that at all and Copes is more than happy to break down the details for anyone who willing to listen.. Check out his website here.. http://oldschoolcopes.com/