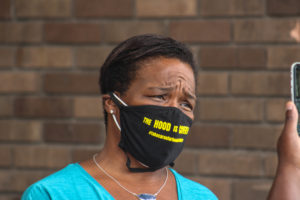 On the second part of today's  Hard Knock Radio show (08-17-20) we headmon out to Eastmont Mall in deep East Oakland to see how activists, organizers and frontline health workers are addressing the the disproportionate impact Covid-19 is having in that area especially among Black people…
We speak with folks like city council member Loren Taylor, community leader David Vilet and hear from doctors like Kim Rhoads (pictured) and Geoffry Watson about the why Black people are being adversely impacted by Covid-19 and why its important to make testing more accesible.  This weekend, (Aug  22-23) there will be free testing at Eastmont Mall from 10-6pm..
We also talked about the unique challenges many people face in deep East Oakland in the sense that many people have no choice but to work, because they are part of the gig economy. This means they get paid when they work. There is no such thing as sick days or paid leave. Many residents are hesitant to get tested, knowing that a positive result would require them to stay at home and self isolate. That could be disasterous for many who are barely making ends meet.  We talked about the variety of support services available for those who are in the gig economy.