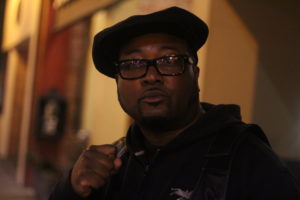 On today's ( Hard Knock Radio show 07-21-20) we speak with Chairman Fred Hampton Jr of the POCC (The Prisoners of Conscience Committee) about what's going on in Chicago. Earlier this week, President Trump threatned to send federal troops to Chicago in an attempt to eradicate a rise in crime. Chairman Fred details the political landscape and explains that Trump's rationale is not genuinbe oir rooted in facts..  We also talk about the plight of the Hampton House which he and the POCC are attempting to maintain.
Later on in the show we speak with Oakland filmmaker  and artist WolfHawKJaguar about his new song 'I Love You' . We talk about the important role music and culture play in helping heal and raise the vibration for higher consciousness. We talk about his film Tent City which deals with homelessness and the direction he hopes to take as these troubled times unfold..
Here's what was written about WolfHawkJaguar's  new single
OAKLAND, CA– In a world in the midst of a historic rebirth, "I Love You" is the theme song needed for such a time as this. From the heart, mind, soul, and spirit of Oakland artist WolfHawkJaguar, "I Love You" comes right on time to ease the birthing pains that come with winds of change.

It is an anthem for healing, an anthem for peace, an anthem for justice… an anthem for the soul of humanity.WolkHawkJaguar says, "I send this message to the family of Ahmad, Brionna and George and the countless families that have suffered under this system, to all the families affected by COVID 19, and to the frontline soldiers fighting for justice. I say 'I Love You!' Play this loud and allow this message to fill you up!" 

With Santos Soul and Dr. Lynne Morrow on background vocals, "I Love You" is another musical classic with the revolutionary creativity that has come to represent the brightest of Oakland and its legendary artist community. The beat is infectious, upbeat, and bouncy. The video captures the stunning beauty, majesty, and magnificence of beloved community in Oakland, CA. The lyrics are an angelic offering of the highest ideals and principles of humanity and what makes life rich.

"When I say 'I Love You' I'm talking to myself first because self-love is essential. It's revolutionary. When I love myself I can give love, I can heal with love and I can show love," WolkHawkJaguar affirms. Pouring forth from the highest frequency, "I Love You" seeks to pour into the hearts, minds and souls of listeners from all walks of life. It sends its healing vibrations out to the countless love warriors all over the planet demonstrating in the streets for love for justice, love for elders, love for children, love of humanity… a love standing up, standing out, and standing strong in the face of hate.

WolkHawkJaguar notes, "We have been conditioned to hate ourselves and to accept hatred and jealousy within families and communities. This system of hate allows for us to be controlled, manipulated, and weak as individuals and as people. We have to power each other up with love. Not a material or oppressive 'love', but a deep spiritual appreciative love that can heal and sustain. A strengthening love that can lift us up and carry us to victory!" Let the church say Amen…. As we march to victory and pass it on!
We conclude our conversation with WolfHawkJaguar talking about the upcoming Bamfest..